On DESIGN CUTS, a new bundle has been released!
The bundle is called "The Totally Artistic Designer's Toolbox."
Let your imagination soar with our latest creative bundle! We've compiled the best creation kits around, from the popular Letter Builder by Ian Barnard, to the awesome Wilderness Scene Creator by The Artifex Forge.

Save $1479 on best selling resources hand-picked for quality and unlock a huge collection of incredible templates, digital brushes, maps, illustrated scenes, logos, calendars, fonts and more to add to your collection! You'll be amazed at the depth and quality that they add to your design work and by how much they speed up your design process.
REG PRICE: $1,508
DEAL PRICE: $29
SAVE: 98%
EXPIRES: 4th Feb 2019 (limited for two weeks)
You can use products in multiple projects & items for resale! 
Also, you will Get unlimited support from the customer support team on all products.
If you share the material collection with SNS, you will get free bonus material.
Disclosure: There are some affiliate links below and I may receive commissions for purchases made through links in this post, but these are all products I highly recommend. I won't put anything on this page that I haven't verified and/or personally used.
What is Design Cuts?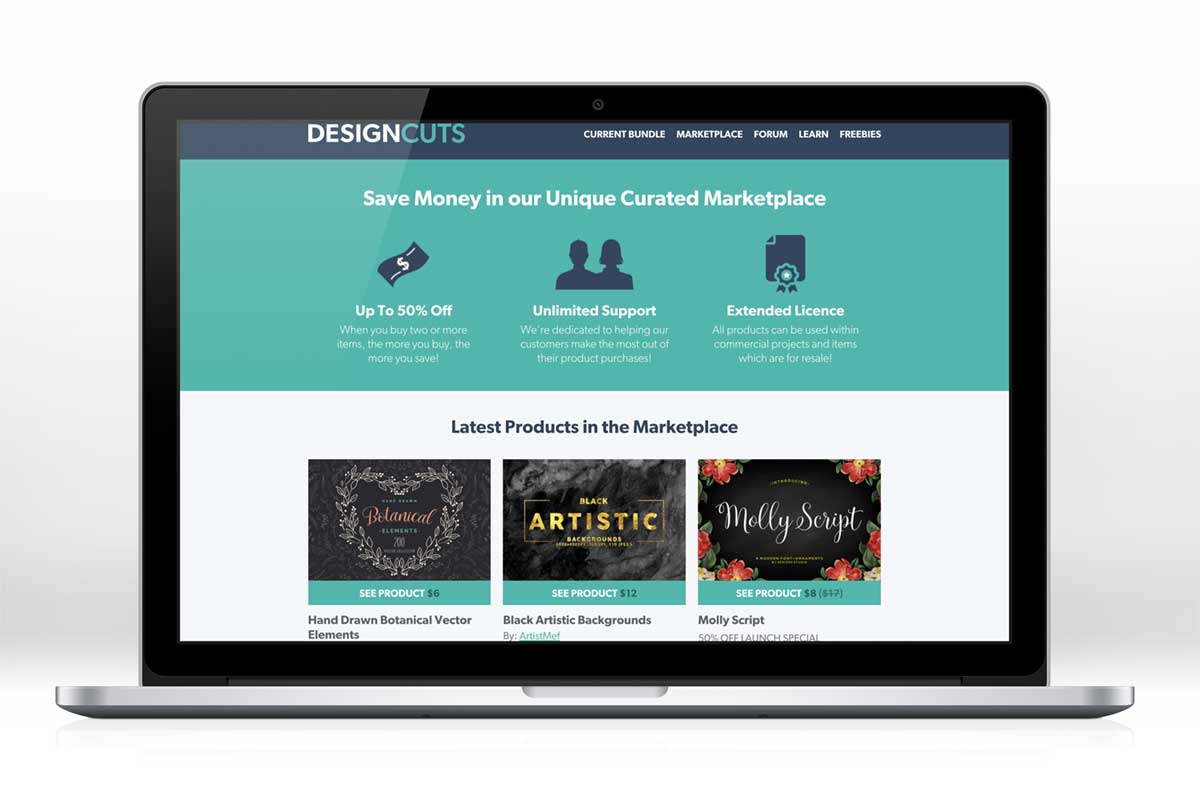 If you don't know what Design Cuts is, let's see this page and you will get more info about it.
What is inside of The Totally Artistic Designer's Toolbox
Here's the list of The Totally Artistic Designer's Toolbox
The Totally Artistic Designer's Toolbox
These are my favorites from this bundle.
MAP CREATOR
This collection has more than 300 map elements, it is perfect for custom designs for your customers or DIY for your own projects just for fun!

Included in this set:

•  132 .PNG (300ppi):
•  98 Map elements (roads, streets, rivers, backgrounds)
•  38 Flower elements (flowers, leaves, branches)
•  18 Plants (cactus, trees, grass)
•  21 Outdoor items (bags, maps, mountains etc.)
•  3 Pre-made City maps
•  5 Wedding items (wedding cake, wedding suit, wedding dress, ring, floral bouquet)
•  9 Transport items
•  21 Houses
•  10 Animals
•  42 Foods and drinks
MARYLAND WEDDING FONT
Maryland is a perfect font when you need to find those special words.

Crafted with love, in our cozy home studio it's an authentically hand-lettered, elegant script. The pack includes alternates for lowercase and uppercase characters as well as additional characters with playful tails, which add a unique charm to your special design. Maryland created to work perfectly in multiple designs like wedding invitations, website logos, social media posts, posters, cards and many many more.

Included in this set:

•  Maryland Regular and Slanted with Opentype Features (full list standard, alternate and symbols with tail) are available via any software with a glyphs panel, such as Adobe Illustrator, Adobe Photoshop, InDesign, Inkscape, Corel Draw.
•  If you don't have any software that works with OpenType, you can install each group of fonts separately, and switching between them to get the look you want: Maryland-Regular, Maryland-Slanted, MarylandAlt-Regular, MarylandAlt-Slanted, Maryland-RegularLeftTail, Maryland-SlantedLeftTail, MarylandAlt-RegularLeftTail, MarylandAlt-SlantedLeftTail, Maryland-RegularRightTale, Maryland-SlantedRightTale, MarylandAlt-RegularRightTail, MarylandAlt-SlantedRightTail.
•  Multilingual Support
•  .OTF and .TTF versions
Except for these above, you will get 19 quality materials when you buy this bundle.
The Totally Artistic Designer's Toolbox
Share The Creative's Ultimate Vintage Collection and get a freebie!
Share The Creative's Ultimate Vintage Collection, and you'll get a freebie! No registration needed.
This time, you can download vintage fonts with motorcycle vector data as an extra.
When you open the bundle sales page, please scroll a little. You can find such a display like below.
Choose the way you like from among three methods of sharing and press the button: Facebook on the left, a Facebook messenger in the middle, Twitter on the right.
After sharing, the text of the original screen will change and the download button will be displayed. Let's click to download free bonus. The material download starts as soon as you press the button.
Design Cuts sells top quality resources in the design world. If you want to know the details, let's see this article below.
If you are interested in the Affiliate program, join the partner program. You will get 20% commission!
On DESIGN CUTS, you can purchase MARKETPLACE's goods as well as bundles. There is no particular restriction on the sales period here, and it will be up to 50% off by bulk purchase.
Comment ( 0 )

Trackbacks are closed.